Two Rivers Hunter's Showcase!



Two Rivers Homecoming will be October 15, 2021. These are the Homecoming dress up days!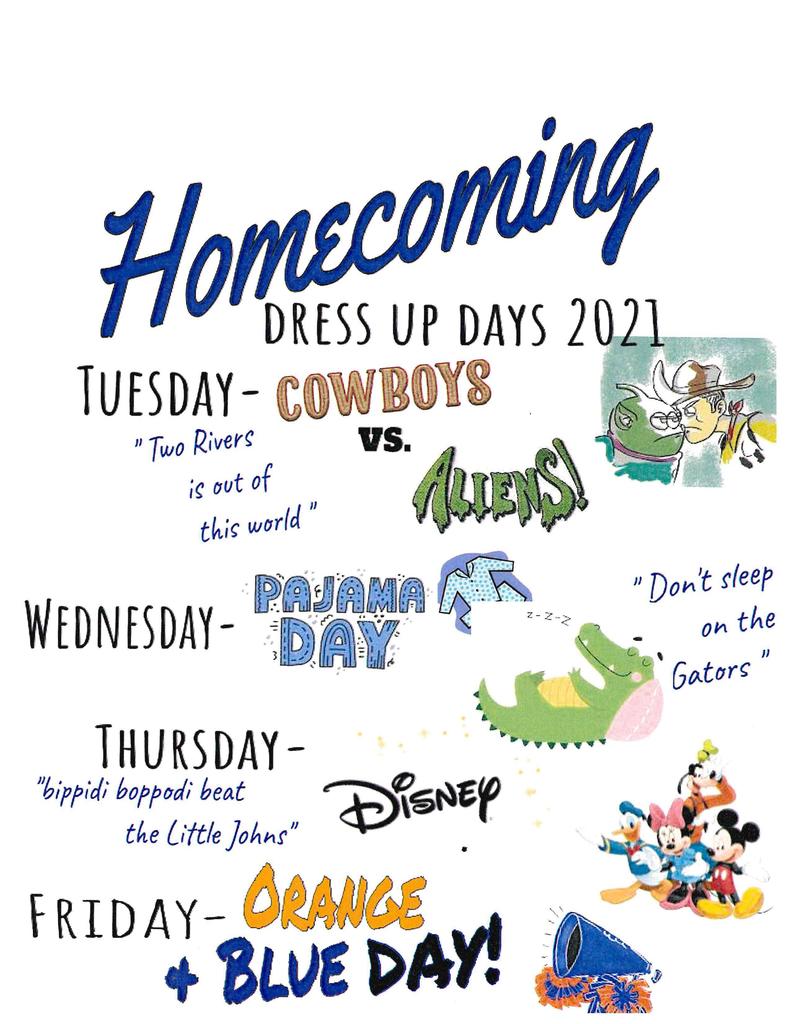 Two Rivers School Board Announcement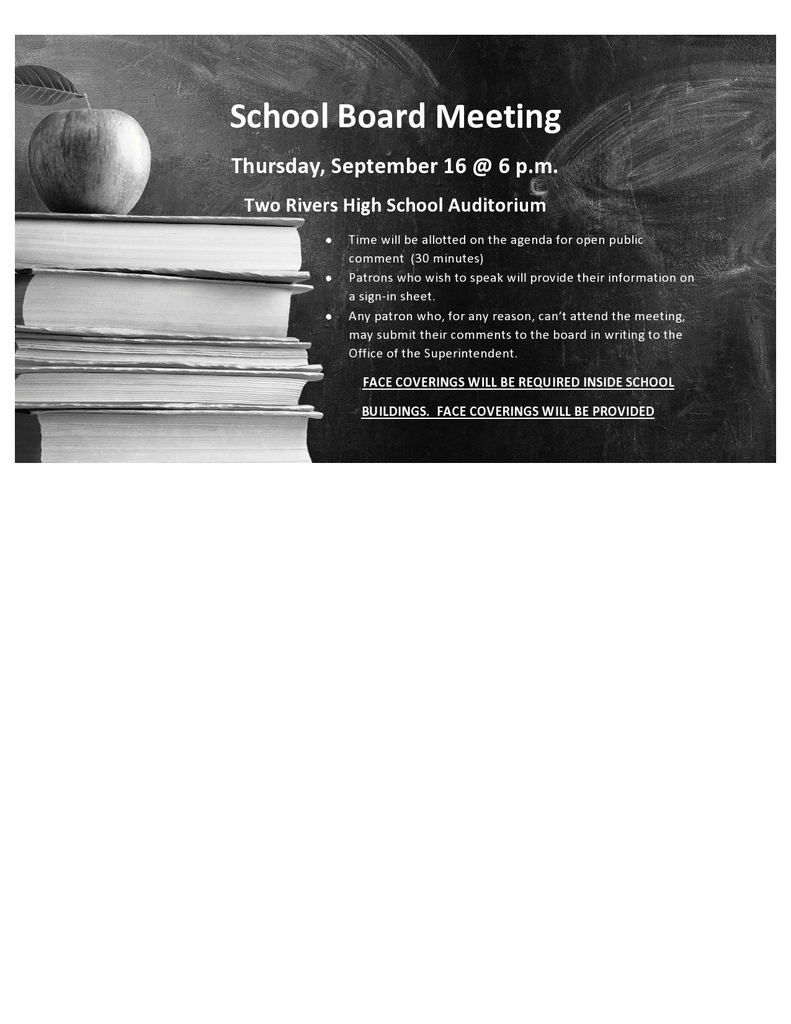 The Two Rivers 5th-12th Grade After-School Tutoring for the Fall Semester 2021 will begin September 20 and end November 18 Tutoring will be 3:30PM-5:30 PM (Monday through Thursday)

The Two Rivers School District will be releasing students at 1:30pm on Tuesday, Sept 14, 2021, for Parent/Teacher Conferences.

5th Grade - 12th Grade Book Fair Sept. 14th - 24th Hours: Mon.- Wed. 7:30am - 4pm Thur. - Fri. 7:30am - 3:30pm Book Fair will also be open also during Parent/Teacher Conferences --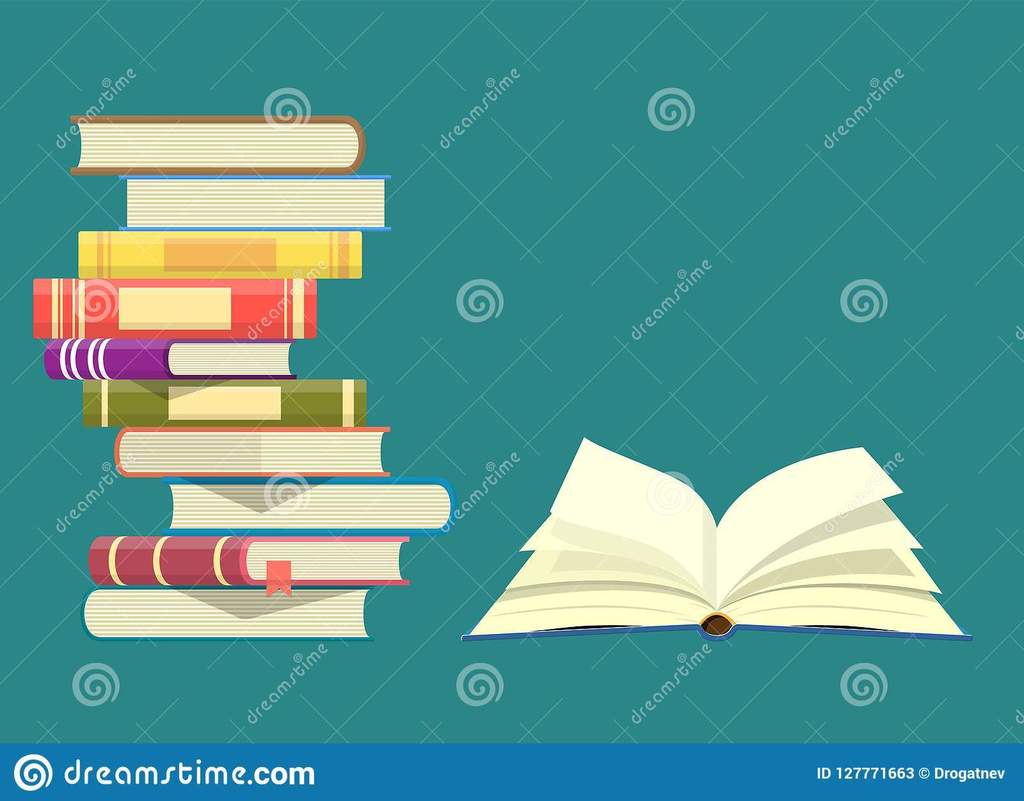 The Junior High game scheduled for this Thursday will be a 6:30pm kickoff. There will not be a 7th grade game this week.

Our district is offering a 100% virtual option for students who need a digital option for K-12 school this year. As part of this option, we are asking the State Board for waivers from several laws for public schools. These waivers are listed in the link below. We would love to hear your feedback and/or questions regarding the requested waivers or virtual option. Thank you! Go Gators!
https://forms.gle/y1UbTf2dZSsDN78E6

The Jr. High football game scheduled for Thursday at Quitman has been changed. It will now be a home game, with a 7pm kickoff. No 7th grade game at this time.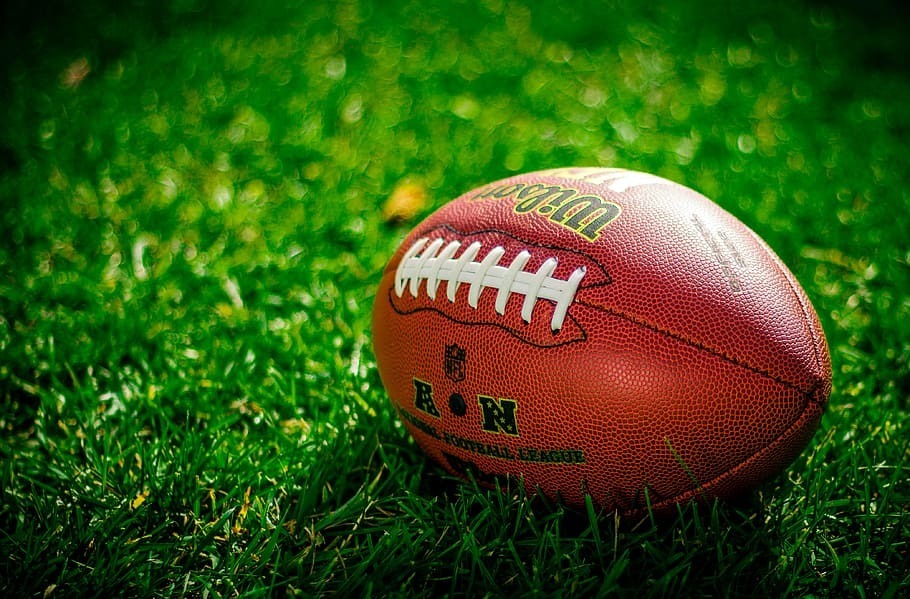 Two Rivers Student Handbook Forms 2021-2022 Welcome back, Gators! The student handbook forms, many required by the Arkansas Department of Education, are required forms for every student for providing necessary safety and services for your child. All students received the mandatory forms at school today. Please complete and return the mandatory forms mentioned above to your child's building office or homeroom teacher as soon as possible. To request optional student handbook forms, please call the school at 1-833-272-8773. Let us know if you want to pick them up in the elementary or high school office or we can send them with your child. These forms include: School Lunch Substitution Form Objection to Publication of Directory Information Form Medication Administration Consent Form Medication Self-Administration Consent Form Epinephrine Emergency Administration Consent Form Glucagon and/or Insulin Administration Consent Form Objection to Physical Examinations or Screenings Request for Reconsideration of Instructional or Supplemental Materials Form Request for Reconsideration of Library/Media Center Materials Objection to Honor Roll K-12 Form Objection to Participation in Surveys, Analysis, or Evaluations Photo and Video Release Opt Out Form Please visit trgators.org to see the complete online version of The Two Rivers School District Student Handbook.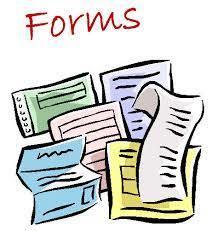 Yearbooks will be distributed Friday August 20th during picture day. If you still need to purchase a yearbook from last year you can do so from 7:30-8:00 Friday morning in the auditorium. If you purchased a Yearbook already it can be picked up on Friday when we call you to take your picture. We will continue selling yearbooks during picture day for as long as supplies last. The cost is $45.00 Thank you Joe Hurley and the Yearbook Staff

Attention Parents: 5th grade orientation will be held in the high school auditorium, beginning at 4:30pm.

**ATTENTION** There will be a Special Board Meeting tomorrow night, 8-12-21, beginning at 6:30pm

Back to School pictures will be Friday August 20th. This will also be the picture that will be used on the class Yearbook pages. This will be for all K-11 students. No purchase is necessary to have your picture made for the Yearbook photo. If you would like to order pictures you can do so at: mylifetouch.com Picture ID Code for Elementary: EVT4CC4DQ Picture ID Code for High School: EVTJSCP9Q We will also be sending home picture forms with the above information on Tuesday August 17. If you have any questions, please feel free to contact me at
hurleyj@trgators.org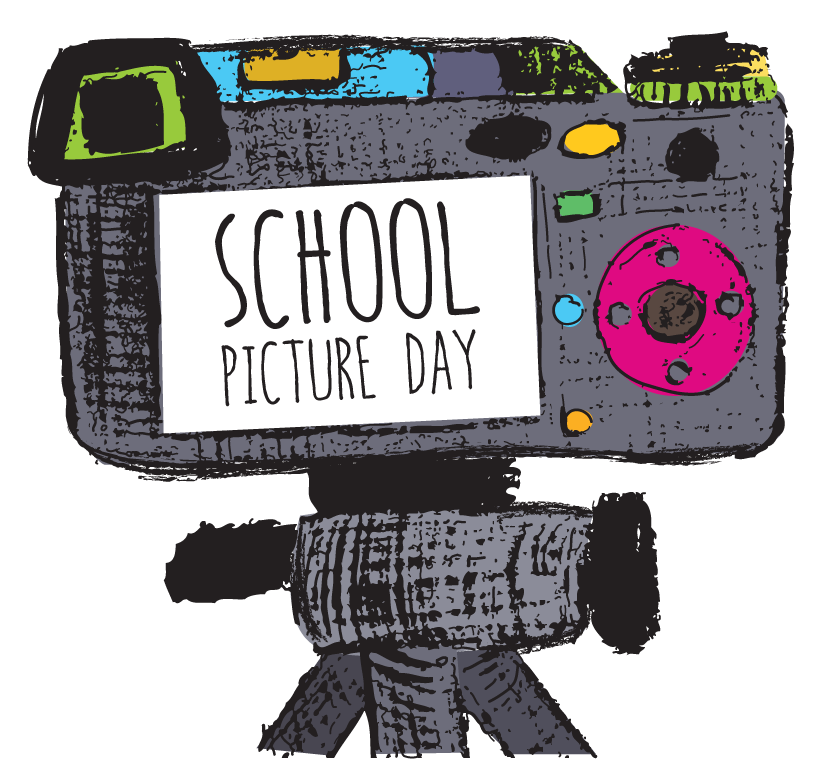 Seniors and Juniors, Jostens will be here on Tuesday August 24 to present for rings and senior supplies. They will present at 9:00 for the junior class and about 9:30 to the Senior class. Jostens will return on Friday the 27th for your order. They will require a $75 deposit for rings and a $75 deposit for senior supplies if you are ordering anything more than just cap and gown. If you do not have the $75 for the deposit please place your order and you can pay the deposit at a later date. If you have any questions please contact me. Thanks, Capella Neeley

The Two Rivers School District would like to extend another huge THANK YOU to Centennial Bank for providing donuts for our teachers & staff during Professional Development week. It was very much appreciated!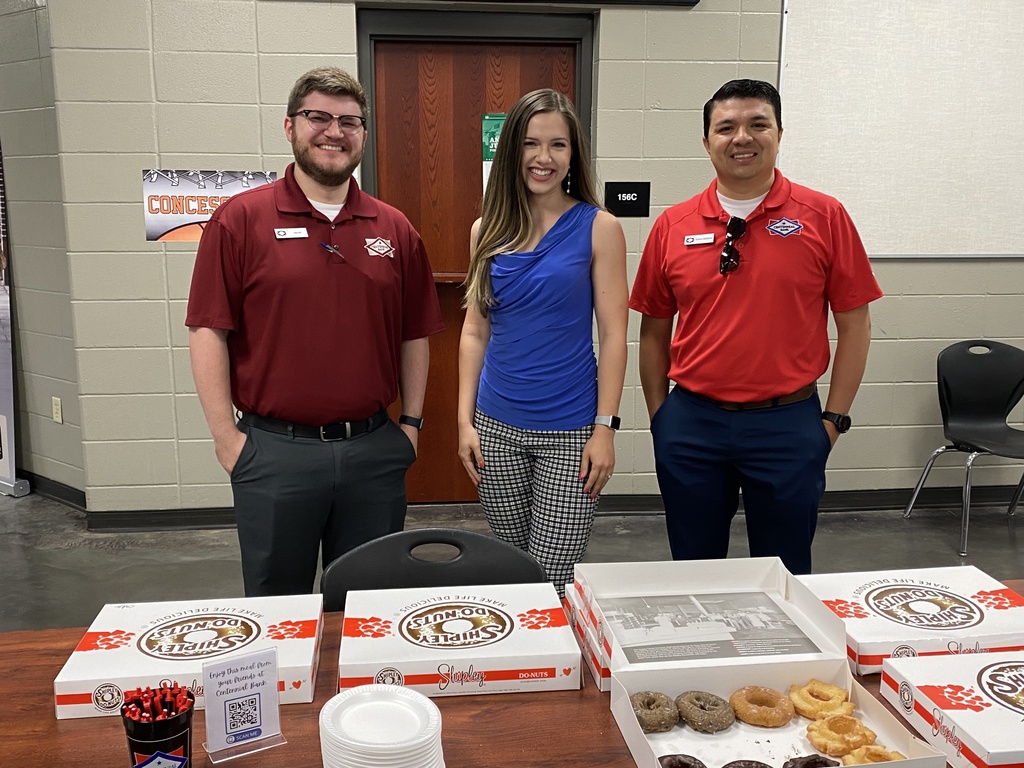 The Two Rivers School District would like to send a huge THANK YOU to @First State Bank for cooking lunch for our teachers and staff during our fist day of Professional Development. You guys did an outstanding job and it was greatly appreciated.