Two Rivers Elementary after-school tutoring will begin Monday, September 18th, 2023. The program will run Monday and Tuesday 3:30 p.m. – 5:30 p.m. We will work on Math and Literacy skills each day. If you are interested in your child participating, please contact your child's classroom teacher. 🐊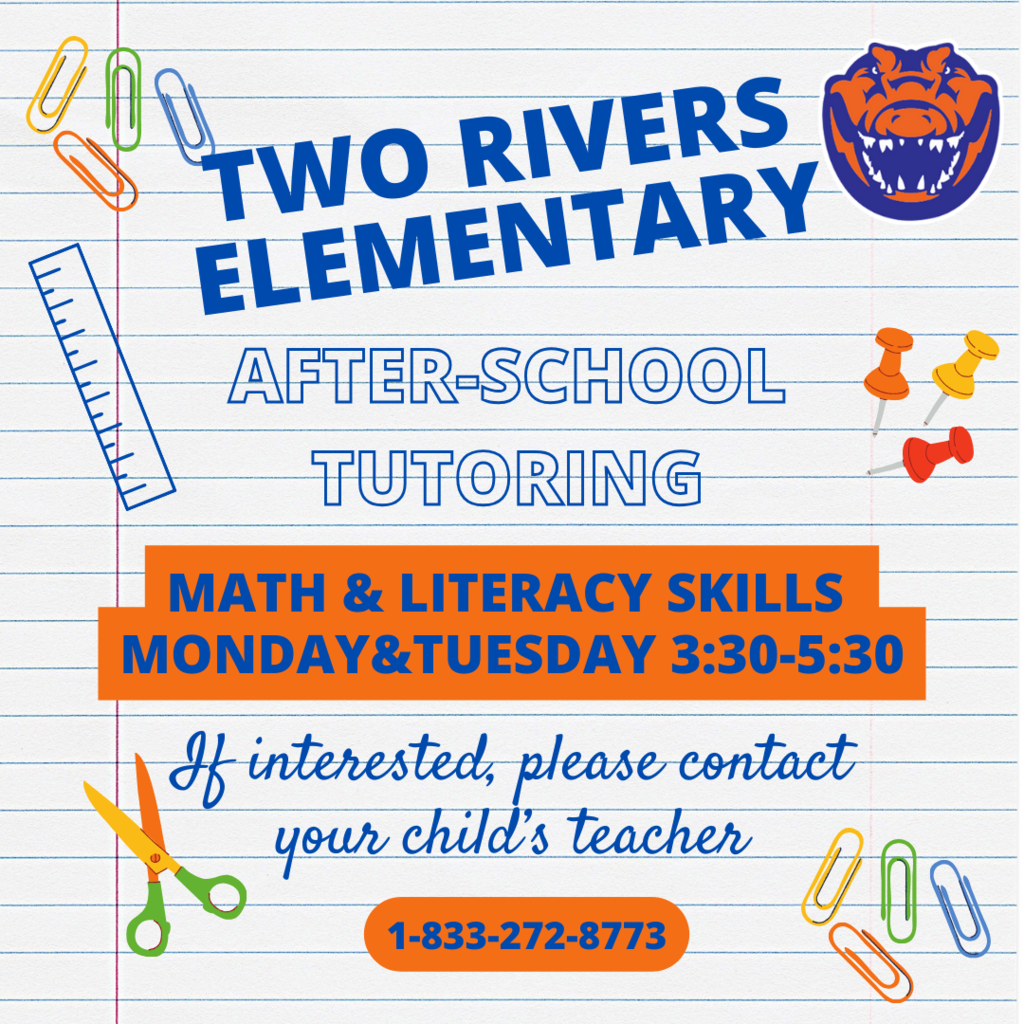 High School Gator Book Fair The Book Fair has arrived! 🤩 When: Sept. 15th - Oct. 3rd Where: Two Rivers High School Library Open: 7:30 am- 4:00 pm The Two Rivers High School is having our fall book fair for 5th-12th grade September 15th - October 3rd! Everyone is welcome to attend. The fair is able to take cash, checks, any major credit card, Google pay, Apple pay and ewallet. Parents can set up an ewallet account for their child at the link below. There is also an online fair with additional books for all ages at the following link.
https://bookfairs.scholastic.com/bf/tworivershighschool1
Family Day: The book Fair will be open during Parent/Teacher Conferences, Sept. 25th from 1pm to 7pm so stop by and check out the fair. Remember, shopping at the book fair helps fund our reading programs while also putting a book in your child's hands! 🥳
We are excited to host our Thanksgiving Community Dinner once again this year! Come join us at the Two Rivers High School Cafeteria on November 14th for a FREE Thanksgiving meal. This event will be from 5:00-7:00 pm. We look forward to seeing you there! 💙🐊🧡🦃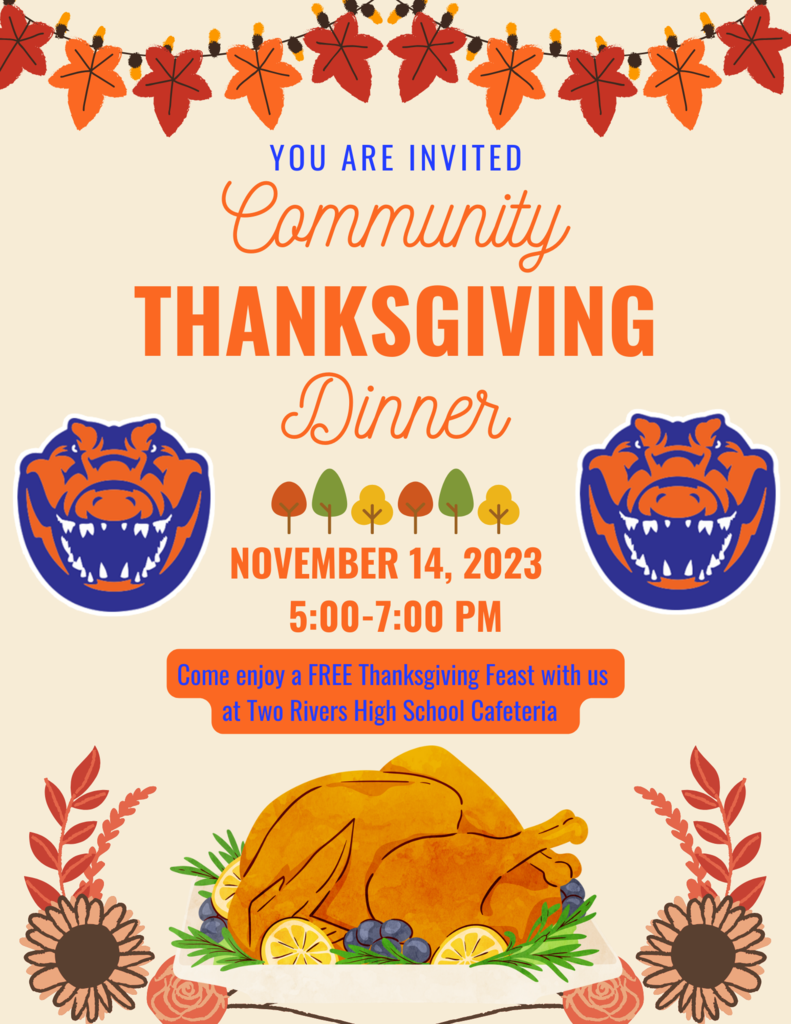 Congratulations to Jacee Waggoner and Miranda Lambert on their success at the Yell County Fair! 🐊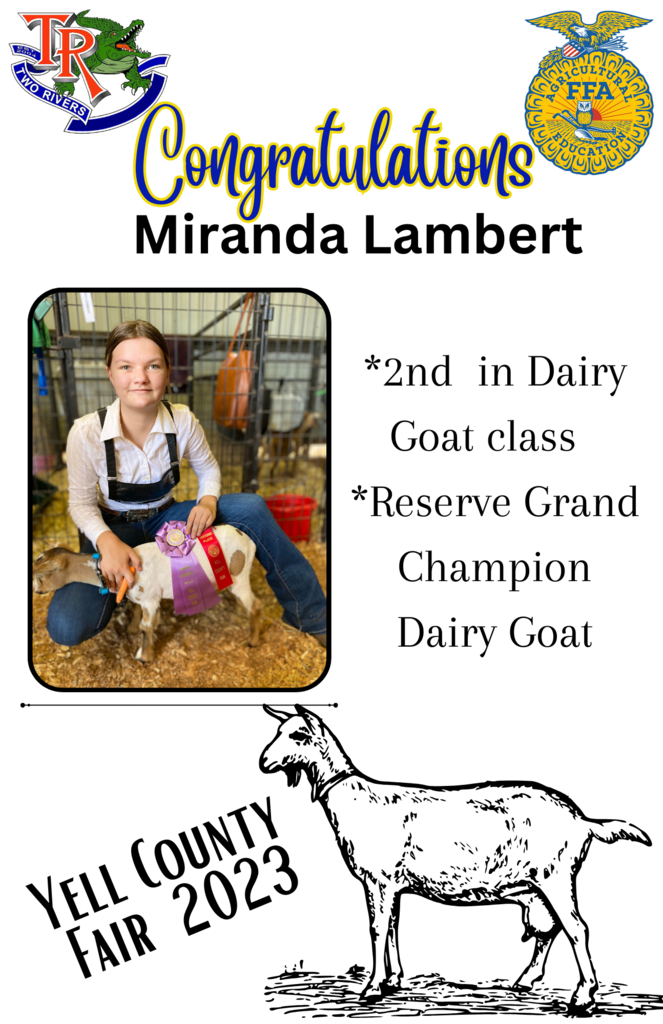 Two Rivers to Host a Blood Drive on Thursday, September 21 in the TRHS Gymnasium If you want to donate blood at our upcoming blood drive at Two Rivers, please email or call Mr. Fisher. (Email)
fisherb@trgators.org
(Cell Phone) 479-264-5028 The Blood Drive at Two Rivers will be held on the top level of the gym on Thursday, September 21 from 9am to 1:30pm.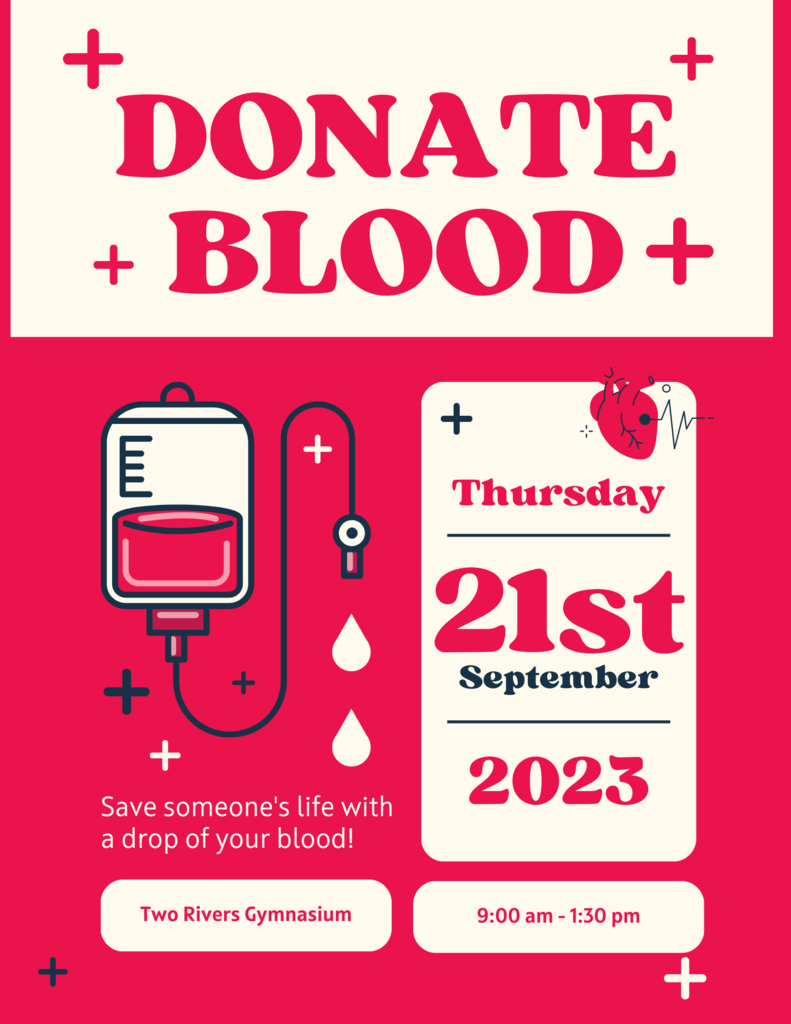 Two Rivers 3rd-12th Grades School's fundraiser starts today, and we need your help. Our goal is to raise $8,000.00 for Student activity fund and other school needs. The Otis Spunkmeyer Cookie Dough fundraiser has a lot more than just cookie dough too. It's as simple as 1, 2, 3! Register TONIGHT at
www.ShopFund.com
Share custom support links with family & friends via Facebook, Twitter, Instagram, Email, Text and more. Student Goal: Minimum of 5 Online Supporters. REGISTER-SHARE-WIN: Sharing gets you tickets for chances to win over $100,000 in instant prizes. Fundraiser Links: How To Videos - (
https://vimeo.com/showcase/8752027
) Kick-Off Videos - (
https://vimeo.com/showcase/10451114
) Parent Letter - (
https://www.believebackoffice.com/fundraisers/parentletterpreview.aspx?parent=1&opid=odyzlvp*-dink1m
) Prize Program - (
https://bit.ly/3Y5wXxw
) On behalf of myself and the staff at Two Rivers High School, thank you for doing your part to make our fundraiser a success. All profits earned will be used on our Two Rivers students for future reward days, activities, events, etc.
Two Rivers High School recognizes the Student of the Month Program for 9th -12th Grade Level Students of the Month and Plainview Superette Academic Students of the Month. We consider good citizenship an important quality in our students and want to recognize those who exhibit the characteristics of good citizens. Good citizens work together with their classmates with a cooperative attitude. They complete their work willingly, exhibit good behavior, and many of them display leadership qualities, serving as role models for their peers. The school will pay for the student's meals and the principal will take the 9th -12th students out to eat lunch. These students will receive a tee shirt and a certificate for being selected students of the month for August 2023 and they will appear in the local newspapers. Pictured from left to right: Back Row: Barry Fisher, (TRHS Principal), Luis Bello-Patricio (11th), Carter Cunningham (11th) Front Row: Evelynn Ramirez (9th), Kelsey Frost (12th), Luna Cano (10th), Amberlee Whitmer (12th) Kelsey Frost was the Plainview Superette Academic Student of the Month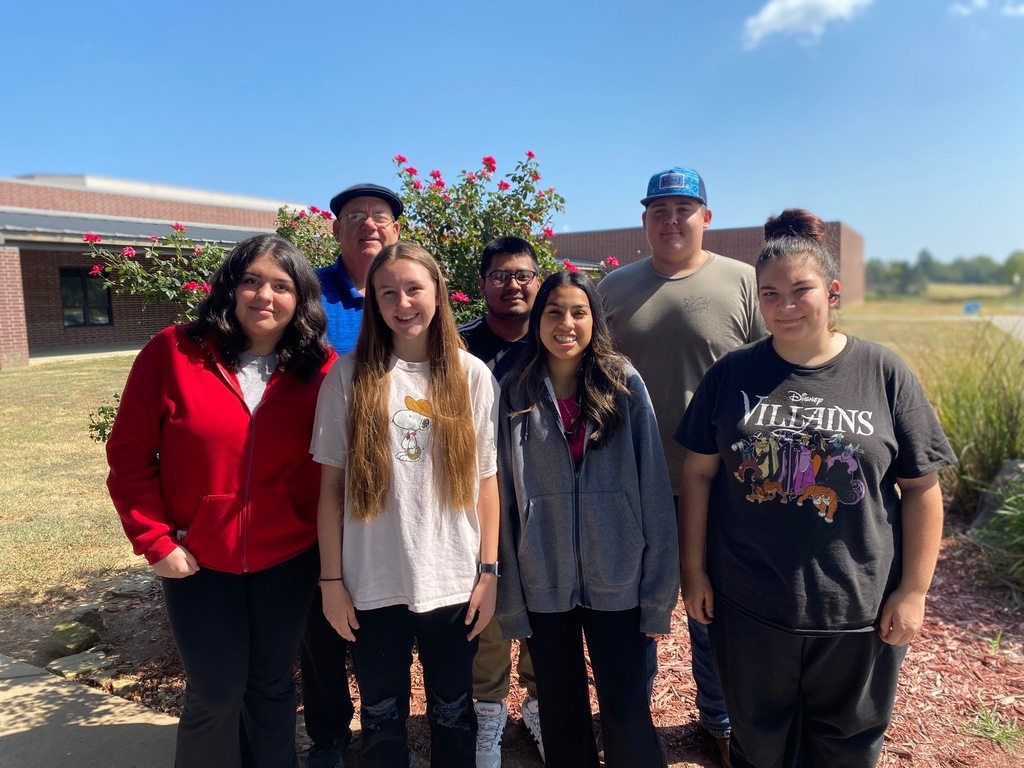 We are so proud of these cross country runners! Tuesday they battled the heat and placed well! PR's for all!! Great job Gators! 🐊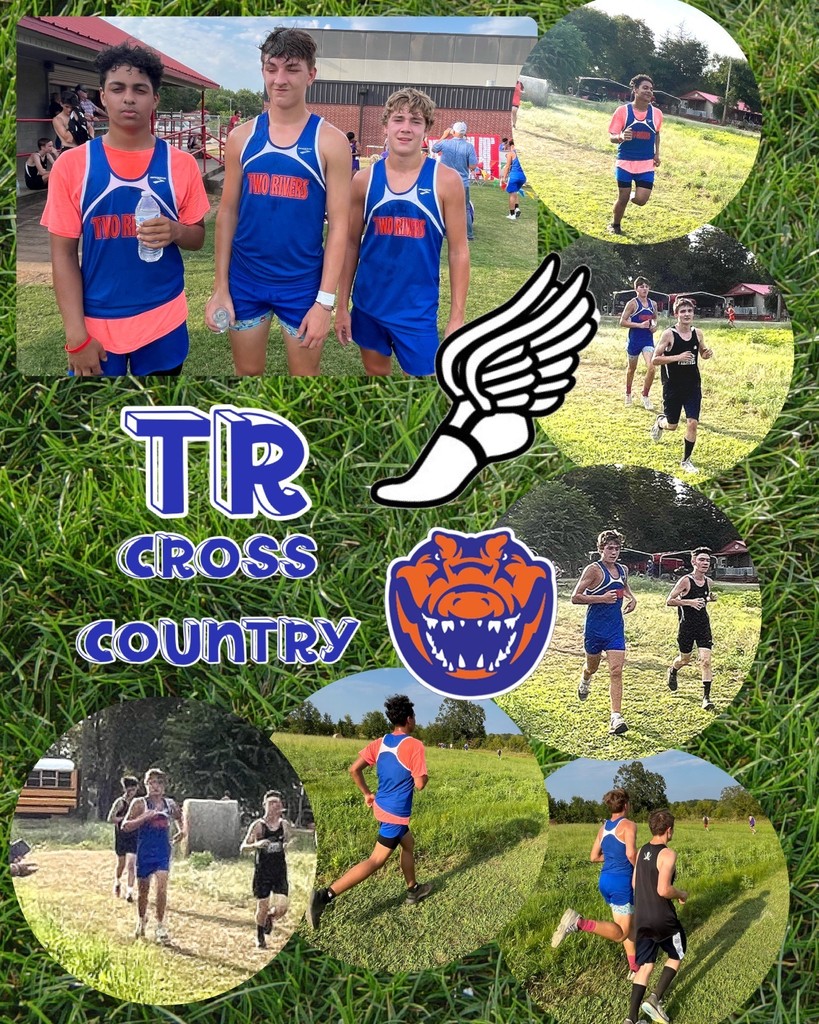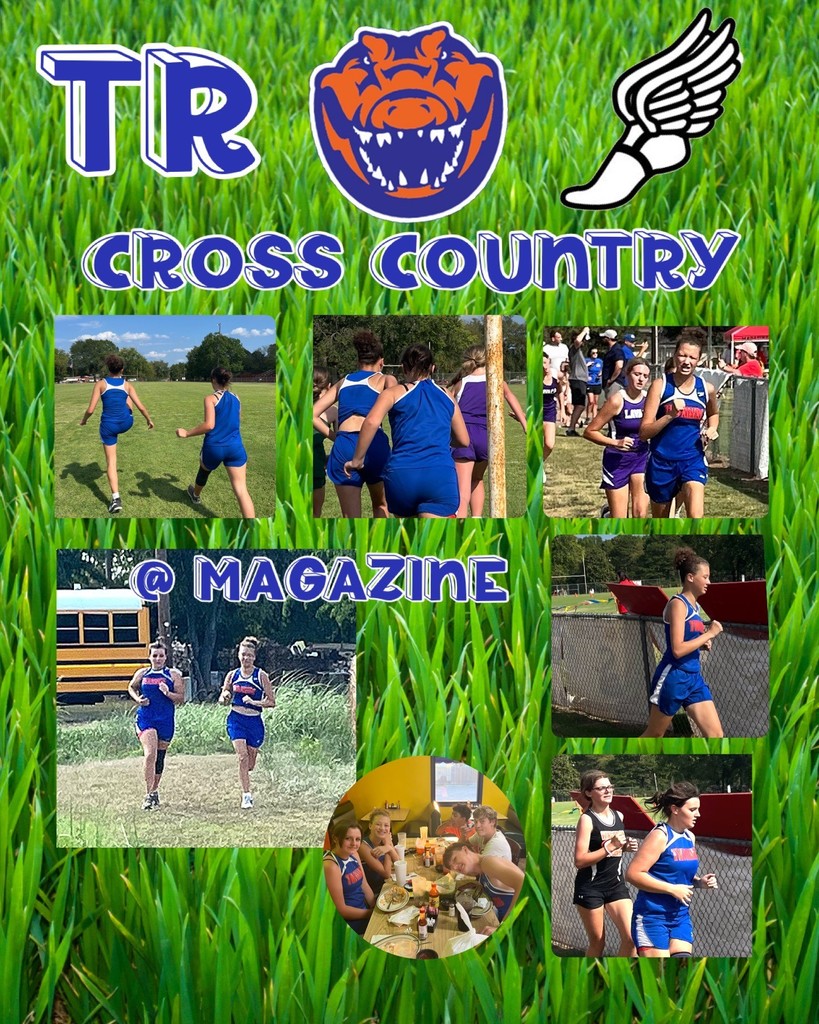 Congratulations to our very own Coach Minnie! She is the 2023 SHAPE Arkansas Elementary Teacher of the Year!! We are incredibly proud of her and thankful to have her as part of our Gator Family! You are amazing, Coach Minnie! 💙🐊🧡
Good afternoon, Gator family! The Kindergarten, 1st, and 2nd grade students will be completing our state mandated NWEA testing this week. All three grades will test tomorrow and Wednesday, then 2nd grade will finish testing Thursday. It is important for them to be well-rested and prepared to take these important tests. Please make sure to have your child/children at school on time and encourage them to do their very best. Go Gators!! 💙🐊🧡
Support our cheerleaders by purchasing a TR Gator shirt or sweater. 🐊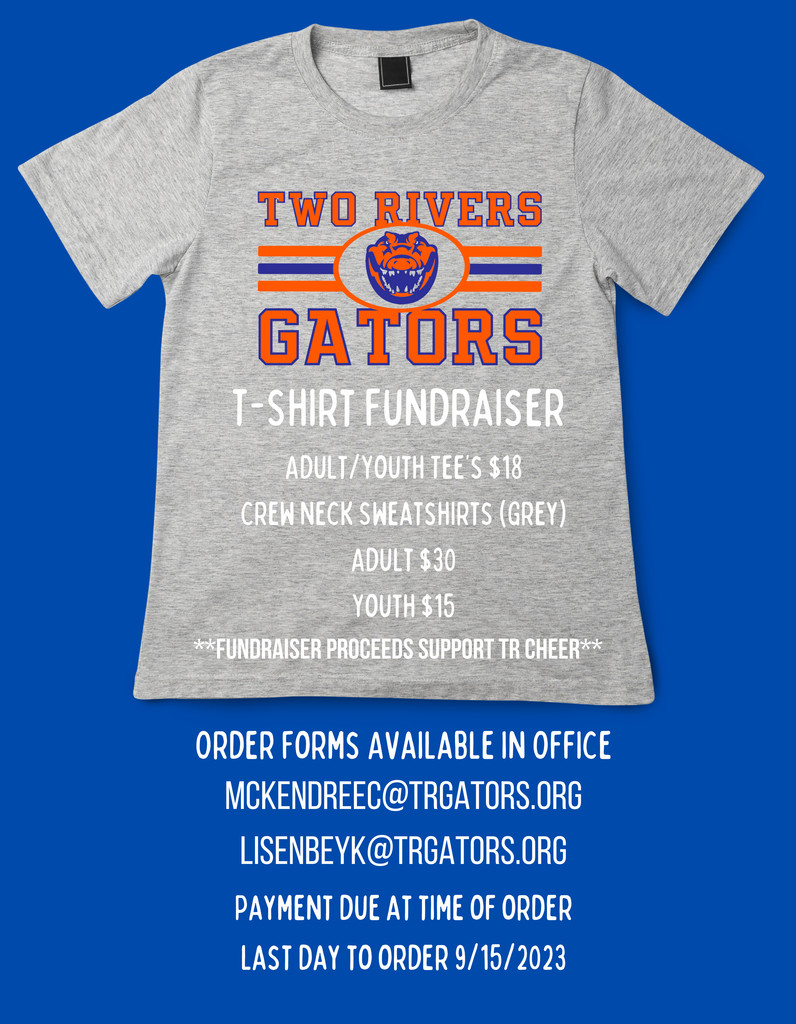 Two Rivers has received the 2022-2023 yearbooks. However, during our quality control process we discovered problems with the yearbook covers that occurred during the manufacturing process that did not meet our or Josten's standard for quality. We want each customer to receive the high quality book that Jostens is known for producing. In order to ensure that each book is satisfactory, Jostens is reprinting the damaged books in their entirety. The new distribution date will be announced once we have an estimated time of arrival for the new shipment of yearbooks. We respect that the yearbook is a valued keepsake and your satisfaction is of the utmost importance. We are sorry for any inconvenience. Thank you! Two Rivers School District
September Lunch Menu
Two Rivers Gators will host the Atkins Red Devils tonight in a Jr. High and Sr. High benefit scrimmage game. 🏈🐊 Jr. High will begin at 6pm, followed by Sr. High at 7pm. Proceeds of this benefit scrimmage game between both high schools will be sent to the AAA Catastrophic Insurance Fund. Tonight's admission will be $5.00. AAA passes will be honored.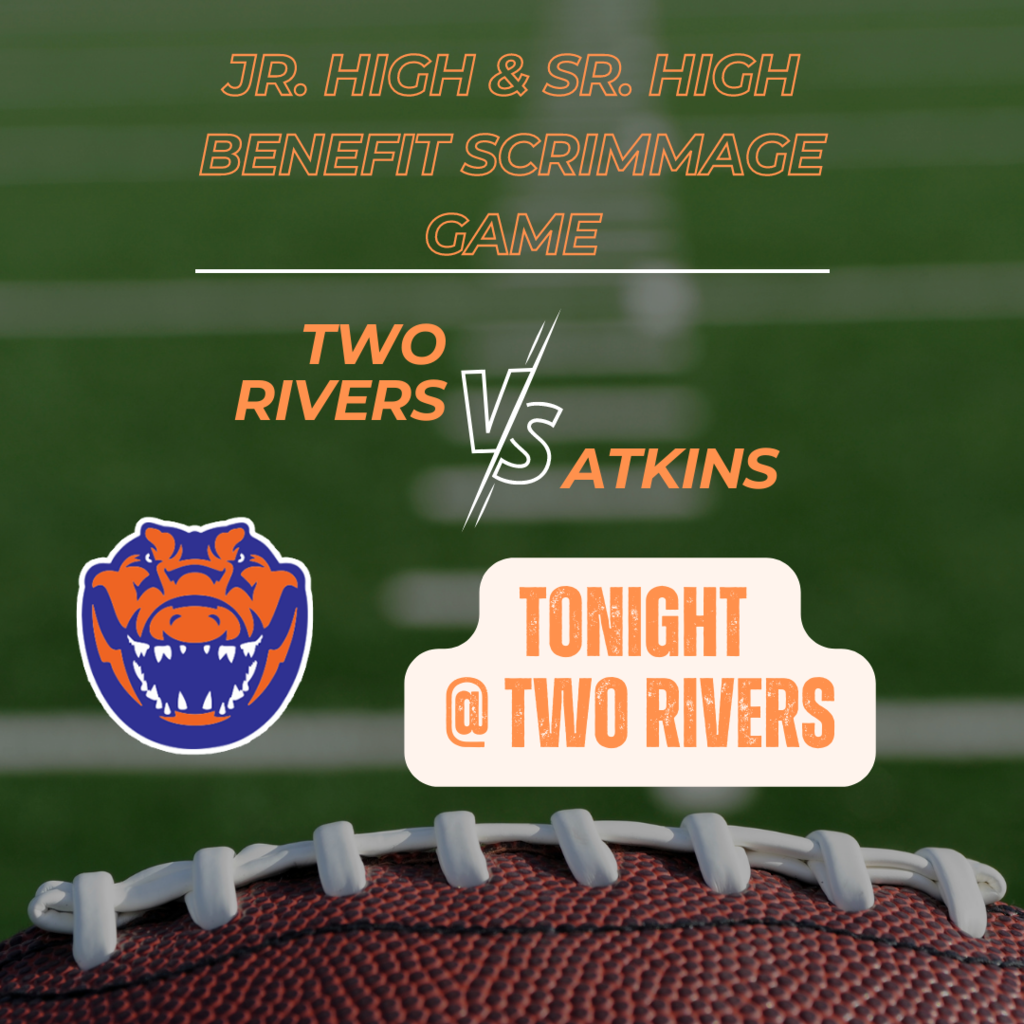 Two Rivers School District Notice of Invitation for Bid (IFB) The Two Rivers School District will be accepting bids for the foodservice department for the 2023-2024 school year, including grocery's, milk, juice, bread, and supplies. Bid packets may be picked up at the Two Rivers Schools Superintendent's Office at 17727 East State Hwy 28, Ola, AR 72853 or you may request an electronic copy at
brownk@trgators.org
from June 5 - July 3 during normal business hours. All bids must be received by Wednesday, July 5, 2023 at 10:00a.m. Bids should be in a sealed envelope. Bids will be opened July 5, 2023 at 11 :00 a.m. in the Two Rivers Cafeteria. The Two Rivers School District follows all rules pertaining to Debarment and Suspension and will use small, minority, and women's businesses whenever possible. For further questions, please contact Kelly Brown Food Service Director at 1-833-272-8773 EXT.1201 or email
brownk@trgators.org
USDA NON-DISCRIMINATION STATEMENT In accordance with Federal civil rights law and U.S. Department of Agriculture (USDA) civil rights regulations and policies, the USDA, its Agencies, offices, and employees, and institutions participating in or administering USDA programs are prohibited from discriminating based on race, color, national origin, religion, sex, gender identity (including gender expression), sexual orientation, disability, age, marital status, family/parental status, income derived from a public assistance program, political beliefs, or reprisal or retaliation for prior civil rights activity, in any program or activity conducted or funded by USDA (not all bases apply to all programs). Remedies and complaint filing deadlines vary by program or incident. Persons with disabilities who require alternative means of communication for program information (e.g., Braille, large print, audiotape, American Sign Language, etc.) should contact the responsible Agency or USDA's TARGET Center at (202) 720-2600 (voice and TTY) or contact USDA through the Federal Relay Service at (800) 877-8339. Additionally, program information may be made available in languages other than English. To file a program discrimination complaint, complete the USDA Program Discrimination Complaint Form, AD-3027, found online at How to File a Program Discrimination Complaint and at any USDA office or write a letter addressed to USDA and provide in the letter all of the information requested in the form. To request a copy of the complaint form, call (866) 632-9992. Submit your completed form or letter to USDA by: (1) mail: U.S. Department of Agriculture, Office of the Assistant Secretary for Civil Rights, 1400 Independence Avenue, SW, Washington, D.C. 20250-9410; (2) fax: (202) 690-7442; or (3) email:
program.intake@usda.gov
. USDA is an equal opportunity provider, employer, and lender.

Library books that were not returned before school dismissed for the summer can be dropped off in the front office during the summer.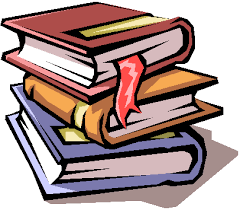 Two Rivers Middle School Academic Award ceremony will be held Monday, May 22 @ 12pm in the high school auditorium.

The Two Rivers School District will be offering summer school for High School Students (9th- 12 th grades), at the Two Rivers High School campus beginning Monday, June 5, 2023 through Friday, June 23th, 2023. You are receiving this letter because your child failed a core class first semester or is failing or near failing one or more core classes this semester. Two Rivers will provide an opportunity for summer school sessions for failing students to recover some core credits. If you have any questions, please be proactive and contact the TRHS office to speak with Mr. Fisher (principal) or Mrs. Johnson (counselor). Students who attend summer school must attend each day and complete the given coursework in order to receive credit. Please see below the criteria and schedule for summer school: 15 days total for summer school. Transportation will not be provided. All classes onsite @ Two Rivers only. Courses offered: English, Science, Math & Social Studies 4 hours each session: 8:00 AM - 12:00 Noon & 12:30 PM – 4:30 PM No Absences, No Discipline Referrals are Allowed (If there are any conflicts, please contact Mr. Fisher at school.) Free Breakfast will be provided from 7:30-8:00 AM in the cafeteria each day. Free Lunch will be provided from 12:00-12:30 PM in the cafeteria each day. Morning Classes & Teachers: English-Mrs. Ornsbey & Science- Pat Fine Afternoon Classes & Teachers: Math-Flora Harrington & Social Studies- Maghan Albright To enroll your child in summer school classes, please contact the school at 833-272-8773. Name: _______________________ Grade: Parents Cell Phone # Summer School classes needed: Please circle the one or two classes you will take. English (AM) Science (AM) Math (PM) Social Studies (PM) If you have further questions, please contact Two Rivers High School Principal, Barry Fisher (1-833-272-8773) Thank you!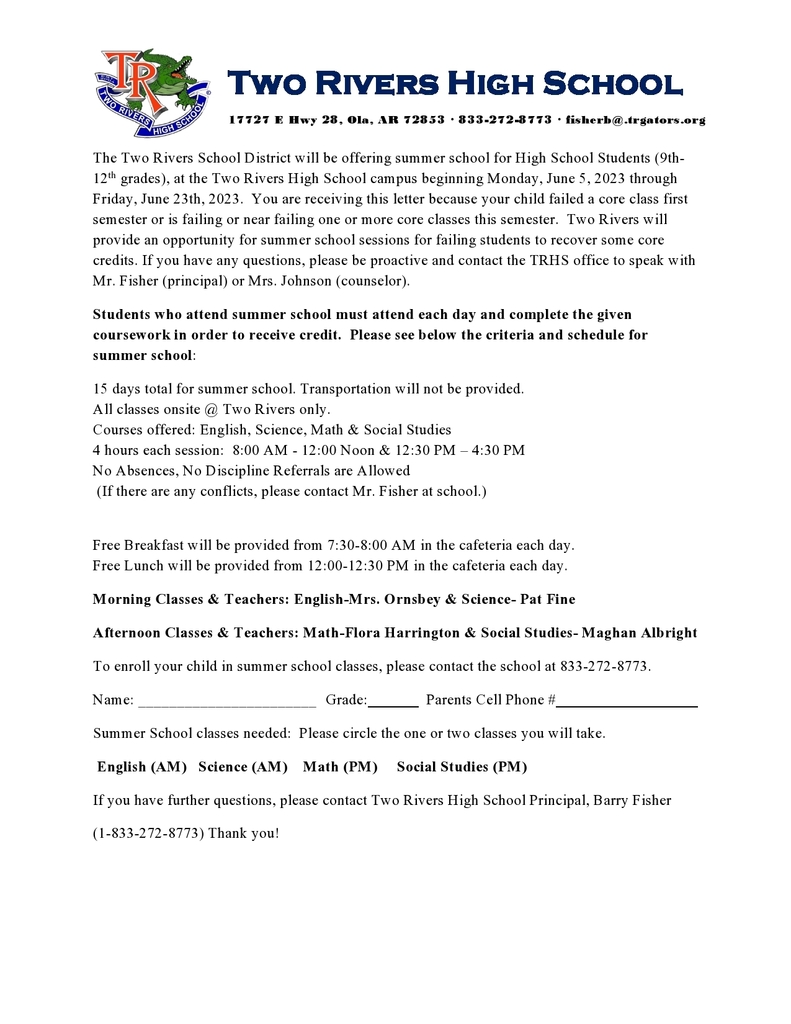 Kelsey Frost earned her 4th Microsoft certification with her Outlook 2019 certificate. Way to go Kelsey!!!