Two Rivers High School is delighted to extend a warm invitation to you for an exciting event this spring. Two Rivers High School is proud to host the Gator Showcase-Reverse Job Fair on Wednesday, March 6th, at the Two Rivers Gymnasium from 9:30 AM to 11:30 AM. Building on the success of our inaugural event in April 2022 and a thriving gathering in March 2023, we are thrilled to announce the return of this innovative Reverse Job Fair in the spring of 2024. Our Gator Showcase has proven to be a valuable opportunity, connecting local businesses with talented candidates, our very own Two Rivers High School Seniors. In this unique approach to a career fair, students take center stage by showcasing their skills and accomplishments directly to potential employers. Instead of the traditional model where employers set up booths, our students will be at the forefront, marketing themselves to you. To facilitate this connection, we have already initiated the process by sending out a save-the-date flyer to local businesses (attached to this email). In February, we will provide interested businesses with detailed student profiles, including pictures, achievements, skills, and certificates, allowing them to pre-select the students they would like to engage with during the event. We firmly believe that the Gator Showcase-Reverse Job Fair is a win-win for both local businesses and our talented Two Rivers High School Seniors, fostering meaningful connections and opportunities within our local community. We are excited about the prospect of your participation in this event, and your presence would undoubtedly contribute to its success. Please find the attached save-the-date flyer for your reference. Thank you for considering our invitation, and we look forward to welcoming you at the Gator Showcase-Reverse Job Fair. Best regards, Barry Fisher Principal Two Rivers High School PS: If you have any questions about this event, please email Mr. Fisher at
fisherb@trgators.org
or call 479-264-5028.
We are so excited to host our Elementary Christmas Musical on Monday, December 4th at 6:30 p.m. in the high school auditorium. Parents, please have students to the high school cafeteria by 6:00 p.m. dressed in red, green, or white. See you there! 🐊🎶🎄
Here is our lunch and breakfast menu for the month of December. 💙🐊🧡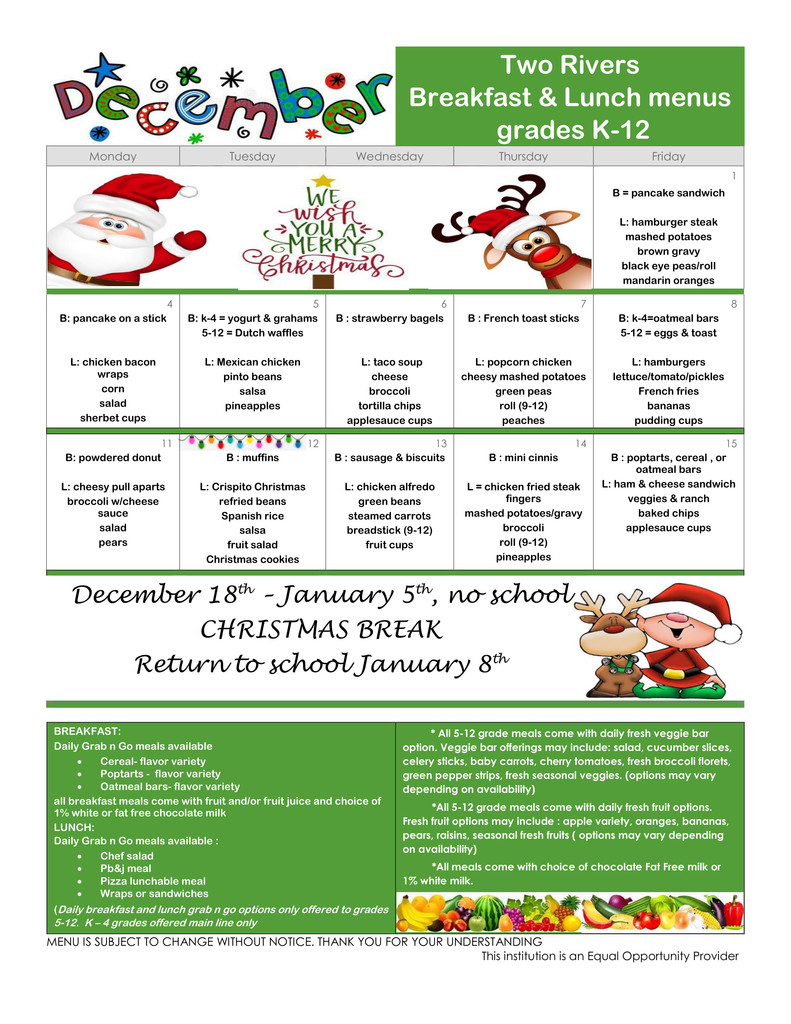 Thanksgiving break will begin Monday, November 20th. School will not resume for students until Tuesday, November 28th. We hope you all have a wonderful break! 🦃💙🧡🐊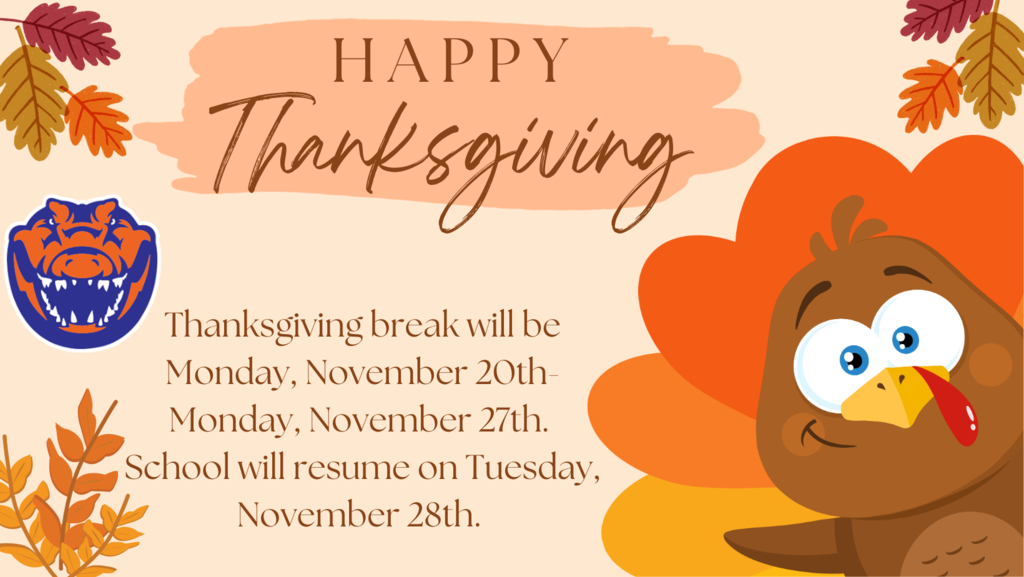 There will be a meeting on October 25, 2023 from 9:00-9:30 a.m. at the Two Rivers School District Administration Office. This meeting is for parents of Private School/Home School students that reside within the Two Rivers School District. The meeting will be to provide information about a proportionate share of Special Education services to eligible Private School/Home School students. If you have any questions, please contact Tammy Rainey 501-269-2975.
Here are our upcoming elementary dress up days for Red Ribbon Week! ❤️💙🧡
Our elementary was selected to participate in this year's STOP program! We are so excited for this opportunity. 🌳💙🐊
Two Rivers Agriculture classes would like to say "thank you" to the Marines for speaking with them! 💙🐊
Homecoming Week Dress-Up Days October 9th-12th 💙🐊❤ Monday: Twins Tuesday: Cowboys & Aliens Wednesday: Ken & Barbie Thursday: Orange & Blue (Friday: No School due to fall break - Homecoming game that night)
TRSD Homecoming Information 2023 🏈💙🐊 Homecoming Practice for the daytime & night time ceremony - Wed October 11 @ 10:30 AM in the TRHS Gymnasium -------------------------------------------------------------------------------------- Daytime Homecoming Ceremony -- Thursday, October 12 @ 2:00 PM (TRHS Gymnasium) ---------------------------------------------------------------------------------------------- Night Time Homecoming Ceremony-- Friday, October 13--start at 6:20 PM @ TRHS Football Stadium Football game begins at 7:00 PM
Join us in the high school library this Monday, October 2nd from 7am-5pm. Bring your parents, or a family member, to see the book fair and enjoy a muffin. You may use the side door by the Ag building before and after school. Just knock on the glass door and Mrs. Gillum, the high school librarian, will let you in. We look forward to seeing you!
October Lunch and Breakfast Menu
Congratulations, Aubrey!
Two Rivers Elementary after-school tutoring will begin Monday, September 18th, 2023. The program will run Monday and Tuesday 3:30 p.m. – 5:30 p.m. We will work on Math and Literacy skills each day. If you are interested in your child participating, please contact your child's classroom teacher. 🐊
High School Gator Book Fair The Book Fair has arrived! 🤩 When: Sept. 15th - Oct. 3rd Where: Two Rivers High School Library Open: 7:30 am- 4:00 pm The Two Rivers High School is having our fall book fair for 5th-12th grade September 15th - October 3rd! Everyone is welcome to attend. The fair is able to take cash, checks, any major credit card, Google pay, Apple pay and ewallet. Parents can set up an ewallet account for their child at the link below. There is also an online fair with additional books for all ages at the following link.
https://bookfairs.scholastic.com/bf/tworivershighschool1
Family Day: The book Fair will be open during Parent/Teacher Conferences, Sept. 25th from 1pm to 7pm so stop by and check out the fair. Remember, shopping at the book fair helps fund our reading programs while also putting a book in your child's hands! 🥳
We are excited to host our Thanksgiving Community Dinner once again this year! Come join us at the Two Rivers High School Cafeteria on November 14th for a FREE Thanksgiving meal. This event will be from 5:00-7:00 pm. We look forward to seeing you there! 💙🐊🧡🦃
Congratulations to Jacee Waggoner and Miranda Lambert on their success at the Yell County Fair! 🐊
Two Rivers to Host a Blood Drive on Thursday, September 21 in the TRHS Gymnasium If you want to donate blood at our upcoming blood drive at Two Rivers, please email or call Mr. Fisher. (Email)
fisherb@trgators.org
(Cell Phone) 479-264-5028 The Blood Drive at Two Rivers will be held on the top level of the gym on Thursday, September 21 from 9am to 1:30pm.
Two Rivers 3rd-12th Grades School's fundraiser starts today, and we need your help. Our goal is to raise $8,000.00 for Student activity fund and other school needs. The Otis Spunkmeyer Cookie Dough fundraiser has a lot more than just cookie dough too. It's as simple as 1, 2, 3! Register TONIGHT at
www.ShopFund.com
Share custom support links with family & friends via Facebook, Twitter, Instagram, Email, Text and more. Student Goal: Minimum of 5 Online Supporters. REGISTER-SHARE-WIN: Sharing gets you tickets for chances to win over $100,000 in instant prizes. Fundraiser Links: How To Videos - (
https://vimeo.com/showcase/8752027
) Kick-Off Videos - (
https://vimeo.com/showcase/10451114
) Parent Letter - (
https://www.believebackoffice.com/fundraisers/parentletterpreview.aspx?parent=1&opid=odyzlvp*-dink1m
) Prize Program - (
https://bit.ly/3Y5wXxw
) On behalf of myself and the staff at Two Rivers High School, thank you for doing your part to make our fundraiser a success. All profits earned will be used on our Two Rivers students for future reward days, activities, events, etc.
Two Rivers High School recognizes the Student of the Month Program for 9th -12th Grade Level Students of the Month and Plainview Superette Academic Students of the Month. We consider good citizenship an important quality in our students and want to recognize those who exhibit the characteristics of good citizens. Good citizens work together with their classmates with a cooperative attitude. They complete their work willingly, exhibit good behavior, and many of them display leadership qualities, serving as role models for their peers. The school will pay for the student's meals and the principal will take the 9th -12th students out to eat lunch. These students will receive a tee shirt and a certificate for being selected students of the month for August 2023 and they will appear in the local newspapers. Pictured from left to right: Back Row: Barry Fisher, (TRHS Principal), Luis Bello-Patricio (11th), Carter Cunningham (11th) Front Row: Evelynn Ramirez (9th), Kelsey Frost (12th), Luna Cano (10th), Amberlee Whitmer (12th) Kelsey Frost was the Plainview Superette Academic Student of the Month